Since 1880
The rich history of Royal Utermöhlen
What once started as a business specializing in the production of first aid dressing in 1880 became a Royal company, which has evolved into both a national and international player in the field of over-the-counter products. Scroll through our company's rich history.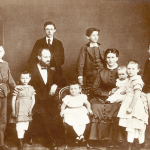 1858
The Utermöhlen family
On October 2, 1858, Carl Friedrich (Frederik) Utermöhlen was born. He is the second son, of a total of eight children, of August Utermöhlen and Gesine Wachtendorf. All children grew up in a home full of music, but also with serious preparation for a social existence.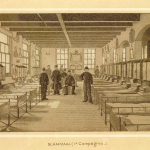 1871
Carl Friedrich Utermöhlen
After elementary school, Carl Friedrich was told to attend college, but it wasn't a success. So the adventure lasted only three years and then, after much effort, he was able to get his father to allow him to fulfill his dream. As a schoolboy he always looked with admiration at the father of his best friend who was commander of the militia in Hoorn and carried a rifle. His father would have preferred that his son would become a shoemaker or learn another craft, but after the school debacle he agreed. However, not much came of this. Utermöhlen soon discovered that he was totally unsuitable as a soldier.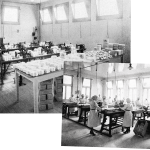 1879
One year later, hope glimmered
Cured of his military aspirations, Carl Friedrich Utermöhlen tried all sorts of jobs, but he didn't really know what he wanted until he came into contact with the first aid dressing.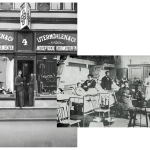 1880
Founding of Utermöhlen & Co.
On February 15, 1880, Utermöhlen & Co was founded by then 22-year-old Carl Friedrich Utermöhlen. The company is located in Amsterdam and is owned by the Utermöhlen family for many years.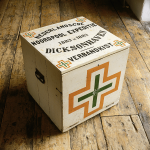 1882
Utermöhlen products on polar expedition
The Dutch physicist and meteorologist Buys Ballot (founder of KNMI) sailed with the Norwegian ship the Varna to Dickson Harbor in Northern Siberia to set up a weather station here. The ship was equipped with a first-aid kit supplied by Utermöhlen.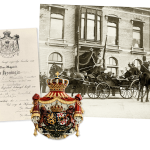 1901
Royal distinction
The invention of the first aid dressing in 1901 made Utermöhlen known worldwide as many soldiers' lives were saved thanks to the ability to quickly dress heavily bleeding (bullet) wounds in wars that were fought. Thanks to this life-saving invention we were awarded with the designation Royal by Queen Wilhelmina.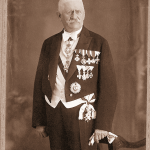 1905
Utermöhlen has received many honors
After Carl Friedrich Utermöhlen invented the first aid dressing, he became a respected man. Not only in the Netherlands, but also elsewhere in the world. Among other things, he received the Commander's Cross in the Military Order of Portugal (1905). In addition, he received the Cross of Merit of the Red Cross in many countries including Serbia, Spain, Cuba, Germany and the Netherlands. Furthermore, he was proud to be knight of the Order of Orange-Nassau.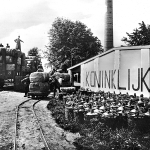 1907
Purchase factory and grounds in Emst
For the supply of coal, bales of raw cotton and for the removal of processed material to the factory in Amsterdam, a special side branch of the railroad had been built to the factory in Emst.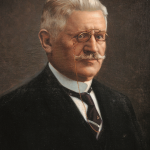 1937
Carl Friedrich Utermöhlen passes away
On November 10, 1937, Carl Friedrich Utermöhlen passed away at the age of 79. A few days before, on November 2, his son Jacques was appointed director. It soon became clear that Jacques would destroy his father's lifework. A rigorous decision was necessary. The commissioners proposed in 1939 "honorable discharge with discharge" with a golden handshake. Order had to be restored.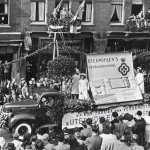 1945
WW ll
After the turbulent war years, Utermöhlen participated in the liberation parade in Amsterdam.
1947
Stock Market Entry
Listing on the Amsterdam Stock Exchange.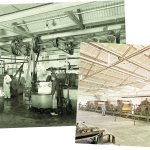 1969
Cotton wool, cotton wool and more cotton wool
Pictured is the endless production of rolls of cotton wool.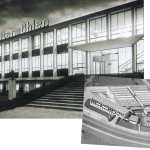 1972
Takeover by ACF, Utermöhlen leaves the stock market
Utermöhlen is taken over by international pharmaceutical company ACF. This ends Utermöhlen's share listing on the Amsterdam Stock Exchange.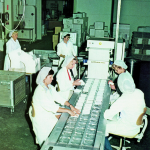 1980
Dark clouds over health care system
Utermöhlen signaled that there were budget cuts in healthcare. The number of hospital beds was decreasing and nursing periods were getting shorter. Home care and the role of general practitioners was increasing, which is why the demand for dressings through pharmacies, general practitioners and patients was increasing. Among other things, the production of incontinence materials became increasingly important.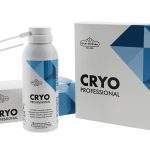 1988
Warts treatment
Utermöhlen is introducing a new product to the market for the treatment of warts. From now on, warts can be easily and safely removed by general practitioners, instead of having to go to a dermatologist.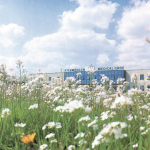 1989
Moving to Wolvega
Utermöhlen left the building on Molukkenstraat in Amsterdam and moved to Wolvega. A few dozen of the employees from Amsterdam moved with them.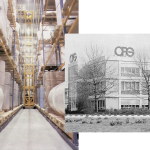 1990
Utermöhlen becomes property of OPG
OPG becomes full owner of Royal Utermöhlen. The company will be split. Don van der Vat will become director of the Consumer Products and Medical Care division within OPG.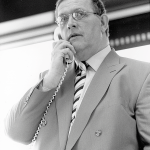 1991
Mr. D.T. van der Vat
In January 1991, Don van der Vat was appointed Commercial Director. Since taking over, Van der Vat had been working to create a tight organization that could adapt to changes in the market without too much difficulty.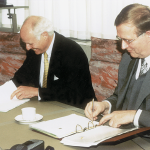 1998
Utermöhlen becomes an independent company again
Utermöhlen becomes an independent company again in May 1998 as a result of a management buy out by Don van der Vat.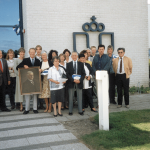 1999
Bursting with energy
Hard decisions had to be made in the first years after the buyout by Van der Vat. Royal Utermöhlen became a trading company with new goals. But quality remained a high priority.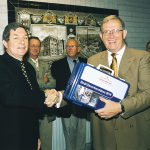 2000
Successful in old tradition
Utermöhlen was the first in the Netherlands to launch a business first aid kit. The first copy was presented to the mayor.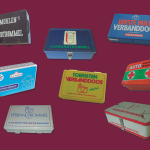 2001
First aid kits
For household use, for in the car, for schools and for day trips; over the years Utermöhlen has brought many first aid kits onto the market. The contents were regularly updated and the design moved with the times.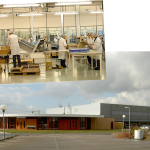 2004
A few hundred yards away
Claessens Erdmann Architects & Designers in Amsterdam was asked to design and entirely new business complex. This building on De Overweg still houses Royal Utermöhlen today.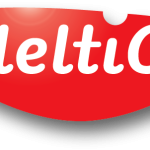 2005
HeltiQ brand introduction
A new wound care brand is introduced for the consumer market under the name HeltiQ. In the following years, the brand expands with various maternity care and self-care products.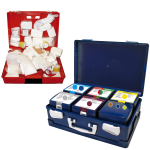 2007
Modular business first aid kit
Utermöhlen introduces the modular business first aid kit. These are complete, organized and injury-oriented.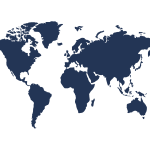 2009
Worldwide distribution
Thanks to intensive cooperation with distributors, cryo technology products are available worldwide. From Europe to America, Asia to Australia.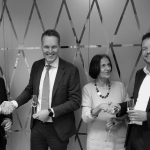 2018
Utermöhlen gets new owners
After 30 years of active involvement in the company, former owner Don van der Vat, is retiring from Royal Utermöhlen and sells the company to Martin Pereboom and Piet Bandell. Martin and Piet know each other from their high school time in Heerenveen. Over the years they kept in touch. When Martin heard that Utermöhlen was looking for a new owner, his interest was awakened. He calls Piet. "Is this something for us to do together?" After a due diligence process of more than 9 months, the takeover was completed on January 24, 2018.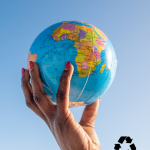 2020
Towards less plastic
Every year we all throw away many kilograms of plastic, but far from all of it is recycled. To make an important contribution to a better environment, HeltiQ is introducing more and more products in FSC sustainability labeled cardboard packaging.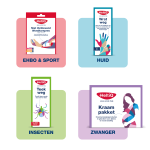 2021
New brand positioning
HeltiQ launches a new brand positioning along with a completely new packaging line. The new payoff, "HeltiQ, your first aid", has a double meaning: HeltiQ not only helps consumers with high quality, but also helps them choose the right products to treat a particular injury, thanks to clear navigation on the shelf as well as a step-by-step plan on the packaging itself. To clearly indicate which category the products belong to, HeltiQ has divided its categories into four clear label colors. Red for the First Aid & Sports category, purple for maternity care, blue for skin products and green for the insect category.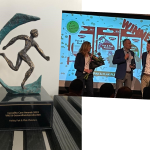 2023
Careality Care Award
Rummaging in drawers or cabinets in search of a band-aid, then struggling to get it out of the film properly. Recognizable? There must be a better way: HeltiQ Grab & Stick Bandage. A new bandage concept, with which you can easily and hygienically grab and stick a bandage with one hand. For this new concept we received an award for best innovation.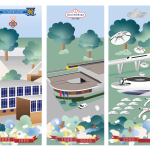 2080
Then, now and in the future
Royal Utermöhlen has been at the heart of self-care for more than 140 years. Our goal is to make quality self-care accessible to everyone, so that you can get on with everyday life. Therefore, we supply professional products to treat minor skin ailments. Not only in the Netherlands, but worldwide. From Europe to America, Asia to Australia. As a trusted partner, producer and supplier, we aim to provide innovative and reliable self-care solutions. Together with market-leading distributors, we ensure worldwide availability of quality self-care products. We are Royal Utermöhlen. Self-care provider, now and in the future.